This article was originally published on inzpire.com on the date 19 December 2021.
Inzpire has been supporting the Julian Campbell Foundation (JCF) for a number of years now.
The charity was set up to help children, teenagers and young adults who have undiagnosed forms of mental distress such as stress, anxiety or depression and is dedicated to Julian – the brother of JCF founder, Jacqui. Through Julian's struggles and eventual suicide, Jacqui recognised the importance of identifying and managing mental health issues in teenagers and young adults.
Through the JCF, it is Jacqui's aim to reduce self-harm and death due to suicide; and in her quest she is aided by an exceptional team of mentors who are on hand to provide critical guidance, counsel and a friendly ear to those who need it the most.
Earlier in the year we introduced you to Gemma, who received critical help and support from the Julian Campbell Foundation and is now helping the foundation spread the word about its work with teenagers and young adults.
Today we are introducing you to some of JCF's volunteer heroes who give up their free time to help young people like Gemma.
JAMIE'S STORY
I've found my calling, thanks to JCF.
My name is Jamie Cooperman. I'm a woman, a wife, a mother, an event planner, and most recently a parent/carer support advocate.
I've been working as an event planner in the Washington, DC Metropolitan area for over 15 years, and in 2020 when the pandemic hit, I needed to figure out where to channel my passion since my events came to a sudden halt. I went on VolunteerMatch and connected with The Julian Campbell Foundation, and my life was changed for the better.
It's been just over a year (hard to believe!) since I went through JCF's mentorship training program. I became a mentor and got to spend more time with Jacqui and the wider leadership team. Jacqui has a knack for getting to know you and positioning you to utilise your strongest skills to better the organisation. She asked me to attend the parent/carer support group, as I've been a parent to a child in a similar situation to the families that are supported by JCF. Through that experience we quickly realised that running the group would play to my strengths and that I could make a difference with the parents and I took on the role to plan and run the group.
I was drawn to the work we do at JCF because of my own experience raising two children who are now in their early 20's and doing well, but both struggled with anxiety, depression, and one with ADHD and extreme school refusal. Through our journey to better mental health for the entire family, I learned so much about parenting, coping, and sharing resources and can now turn that into support across the globe. It's become my life's work to be able to help other parents.
On August 2nd we re-launched our parent/carer support group with more structure, relevant topics, discussions and speakers and we hope to make a major impact and provide continuous support to those who attend.
Jamie provides critical support to JCF's parent support group all the way from Washington!
REBECCA'S STORY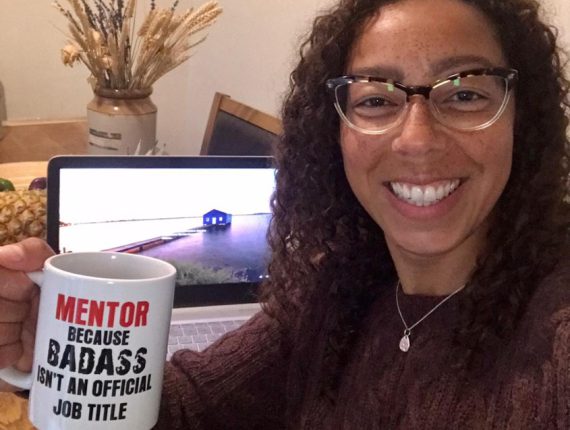 I remember starting the training programme to be a volunteer mentor with JCF. I was quite nervous because it hadn't been that long since I'd applied to be a mentor and after a successful informal interview I was already on the training course. That was quick! The training was really well structured and I was grateful to be able to keep the slides to review what we had covered. I remember feeling uncertain that I was going to be able to help someone but Jacqui quickly told me that just by volunteering I could save someone's life and that both scared and encouraged me at the same time.
It took a good few months before I received a mentee but in between I decided to join the JCF drama workshops at a local school, which gave me an opportunity to meet some of the other mentors face-to-face. It was a really positive event, not only face-to-face interaction but to be part of a group, educating pupils on the mood map, its zones and action points to try to improve mood. I was given flexibility whilst working with the facilitators and the opportunity to address the pupils. I really enjoyed thinking on my feet and it's given me a confidence boost for which I am grateful. It was such a satisfying 2 days and the support from everyone was really appreciated. We felt like a team.
As a volunteer mentor I feel really appreciated. I recently attended the regular Reflective Practice and didn't realise how supportive this is for each and every one of us. I've also attended the monthly socials and it's been great to get to know the other mentors and see the effort that Jamie has put into keeping us entertained each month. Even though I am not in the local area I very much feel connected to the team and I value their support.
At this present time, I'm a several weeks into mentoring my first mentee and I am really enjoying the experience. I'm taking it one step at a time and only working with one mentee right now but I will definitely be accepting another one at the end of this first programme. This is my first volunteering opportunity and I'm so glad it's with JCF.
Working at the Julian Campbell Foundation can be a rewarding and useful experience – and there's probably more ways of doing it than you might think. As well as taking up a role in JCF, there are many other ways you can give your time – cheering, making a video blog, joining our campaigners, talking to the media and more. Find out more about how to follow in Jamie and Rebecca's footsteps – wherever you are in the world! – by clicking here.
Inzpire was saddened earlier this year to hear of the charity's struggle to survivde as a result of the pandemic. If you wish to donate to the charity to ensure it can continue its critical work, you can do so here: www.juliancampbellfoundation.org/donations